Like most Manufacturers Motorola also has begun to allow user to unlock bootloaders of their devices. Unlocking a bootloader can allow the user to Install custom ROMs as well as Custom Kernels. Unlocking bootloader is not for the faint hearted. If not performed properly it call potentially harm your device. However, if you follow the steps perfectly no harm will be caused. Please note that Unlocking your Device will void your Warranty!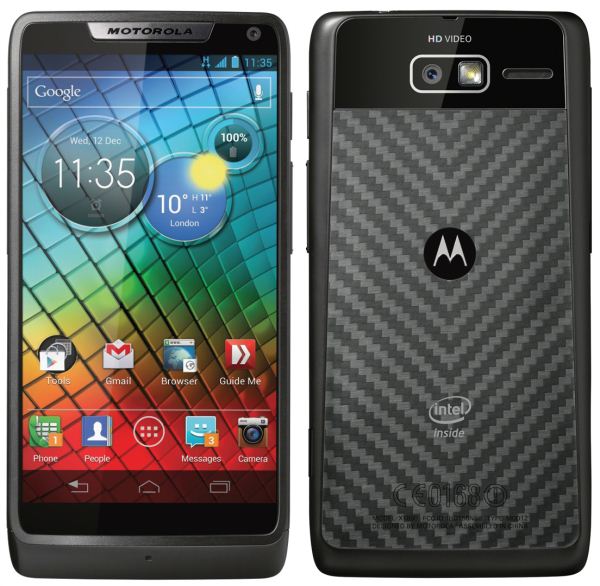 Note: This process will erase all data on your phone. However, the data in SD card will remain safe.
Requirements:
Procedure:
Unzip the ADB package onto your desktop. 

Open the Package and Press "shift + right click" and select open command window here.
Now Press the power button + volume Down button on your RAZR i while plugging it into your PC.
This will put the device in Bootloader mode.
Now Select the Command window opened in Step 2 and type in the following code :


fastboot oem get_unlock_data

This will retrieve a set of numbers on the cmd window which will be spread across 5 lines.
Copy all these numbers and paste it in notepad and delete the word "(bootloader)" and all spaces from them and make them into a single line.
Now open a web browser and visit the Motorola Official Bootloader Unlocking website.
Scroll down to the end of the web page and click on "Proceed Anyway".
Now You'll be require to log in using a Motorola account or Google account.
After that you'll be directed to the next step.
Scroll down to see a box like this:
Paste the numbers that we saved in the notepad earlier and press "Can My Device Be Unlocked?" button.
Then scroll down and Agree to the terms and conditions and press the "Request Unlock Code".
Soon you'll receive a unique key via email that will be used in the next step.
Now move your focus to the Command window.
Type the following code into the cmd window:


fastboot oem unlock UNQIUE_KEY

Soon the process will be completed.
Once the process is complete type the following code in cmd window to reboot the device:


fastboot reboot

This will complete the Bootloader unlocking process and now you can flash Custom ROM and Kernels.